Of all the reporting on radical Islam in the United States, some of the least competent comes from precisely those reporters who should do the most outstanding job – those specializing in religion. I don't recall a single one of them producing a serious analysis of the Islamist groups that dominate Muslim communal life – the Council on American-Islamic Relations, the Muslim Public Affairs Council, the Islamic Society of North America, the Muslim American Society, and the like. Instead, they invariably write puff-pieces.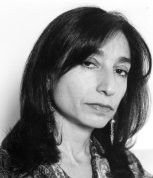 Geneive Abdo.
Some examples, culled over the years (with the caveat that some of these reporters no longer cover religion):
Geneive Abdo of the Chicago Tribune, who spoke at the 2003 annual conference of the Muslim Public Affairs Council.
But – no surprise - my nominee for worst religion reporter goes to someone I have been watching since 2004:
Comment: (1) Is this incompetence a result of the mainstream media being so liberal that it cannot understand religion in general and radical Islam in particular? Probably. (2) As the MSM loudly laments its own demise, we conservatives see this as a mixed development, one that offers a chance for real improvement – and nowhere more than in the realm of reporting on religion. (March 29, 2009)
(...more)